Berkeley Hall - A Private Golf Club Community
Local residents around here call Berkeley Hall extraordinary. The members also call it extraordinary! I am lucky enough to have our Charter One Realty office located right at the front gate of this beautiful community. That is where I sit. Berkeley Hall is a planned private golf community located right in the middle of Bluffton, South Carolina. Bluffton was voted the "25 Best Places to retire in 2016" by Forbes Magazine. The growth in Bluffton is amazing! Berkeley Hall is the third of "The Big Three" as I call them right here in Bluffton. The "Big Three" is made up of Colleton River, Belfair and Berkeley Hall. These three make up the trio of upscale golf communities in Bluffton. All three were developed by famed Hilton Head developer, John Reed.
Berkeley Hall is member owned and operated since 2005. It is a debt free private club with several million dollars in capital reserves. There is no long term debt! There will only be 554 total home sites in this 980 acre community. To date there are currently about 300 homes completed. That makes it around 54% built out.
Berkeley Hall is the lowest density private club in the Southeast with an average of 5.3 home sites per hole. That is a pretty impressive statistic!
Berkeley Hall Amenities:
Berkeley Hall has two world-class Tom Fazio golf courses and a stunning 45,000 sq. ft. Jeffersonian-style clubhouse. All of the golf is centered in the middle of the community making it unique and they call it "Core Golf". The homes tend to surround the golf. The Tap Room is a casual spot for the members and is a great spot to have lunch! The Club also has formal dining areas, full service locker rooms and a gorgeous golf shop!
Berkeley Hall also has a community dock with access to the Okatie River. Members can easily kayak on the river. In addition they have miles of walking trails. They also have a world-class Fitness & Spa Center. The believe it is the nicest fitness center in the area. When you are at the pool you feel like you are in a fabulous resort somewhere!
River Park is an area where members can use a community dock to go boating or kayaking. It is also a great spot for member Oyster Roasts.
Something that makes Berkeley Hall unique is the 33-acre Golf Practice & Learning Center. If you are serious about working on your game, this is the place!
Berkeley Hall Club Fees:
The Berkeley Hall Club Initiation Fee is currently $17,500 to join. This is a one time fee.
The annual Berkeley Hall Club dues are currently $17,850 per year.
The average membership demographic is 58 years old. The Club was named among the top 100 Platinum Clubs of America by Club Leaders Forum. Only a small number of private clubs earn 5-star Private Club, Platinum Club of America status. The Platinum Club status along with the Distinguished Emerald Club designation awarded by BoardRoom Magazine elevates Berkeley hall to a level attained by the finest clubs in the world.
2017 National Membership Plan
Berkeley Hall does have a limited number of non-equity National Memberships available. National Memberships can be purchased on an annual basis, however you must live in excess of 75 miles from the property in order to purchase one. As of this writing the Initiation Fee of $5,000 is being waived for a short time. Current dues are $6,935 per year. The membership is considered a family membership and it includes the heads of the household and children under the age of 25. The membership includes 75 days of golf, full participation in all tournaments, access to all amenities and you can be a part of the summer reciprocal program.
Real Estate Pricing:
Berkeley Hall has three different types of homes to choose from: Estate Homes, Lifestyle Homes and Golf Cottages. When you buy a home or a homesite it is mandatory that you join the club.
Homes:
Prices begin at $299,000 for Golf Cottages and Lifestyle Homes. Estate Homes range from $800,000 to $1,995,000.
Homesites:
Prices begin with a minimal investment and go to $500,000 for a deepwater homesite with spectacular views.
The Berkeley Hall Discovery Package
Berkeley Hall Club does offer a Discovery Package for serious clients who are seeking a luxury golf club. You can stay two nights in a wonderful Golf Cottage and meet some of the members, play golf and get to know the Club. You can call my cell at 843-295-2114 for more information.
Berkeley Hall's 2017 Sales - Year to Date: 1st Quarter
Berkeley Hall is off to a good start for the first three months. Sales are up 20% over last year and the average median price is up 27% from last year, for an average home price of $607,500. The graphic below shows you the total sales in Berkeley Hall for 2015 and 2016.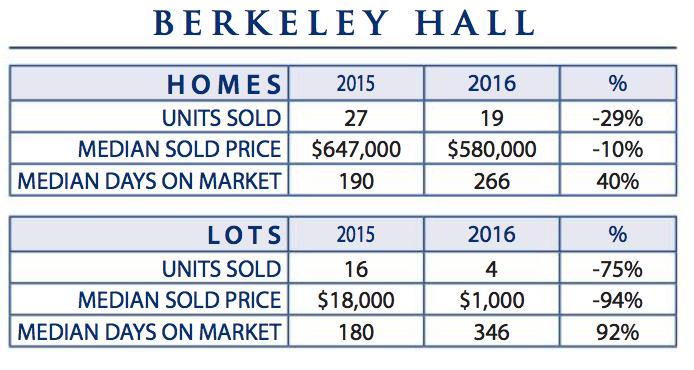 Conclusion
Most of the luxury golf clubs that I have dealt with over the years had a very high price tag on them as an initiation fee. Clubs like Berkeley Hall usually had an initiation fee of $120,000 to join. I think $17,500 to join is a real deal! With my office at the front gate I do love Berkeley Hall. The club is extraordinary to say the least! If you are in the market for a luxury golf club, Berkeley Hall must be considered!